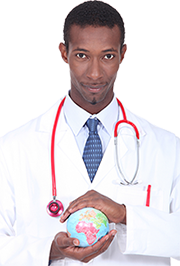 Welcome to CanHealth International!
CanHealth International is a new Canadian not-for-profit organization, bringing high standard healthcare education free of charge to developing nations.
The Vision of CanHealth is to foster a measurable improvement of human health in developing nations through the delivery of improved, high standard inter-professional health education for the purpose of creating a global community for health education with North American standards.
The Mission of CanHealth is to achieve a measurable improvement in the quality and delivery of health education in developing nations by means of the electronic delivery of high standard educational materials and services in order to support and strengthen the existing educational programs in those countries, thereby assisting in the improvement of their human health.
CanHealth's educational services were developed in response to the world's health sector crisis. People across the globe, particularly in developing countries, lack access to quality health services, in large part due to a huge shortage, imbalanced skill mix, and uneven geographical distribution of health workers.
CanHealth values:
Standardized health education between developing and developed countries
High standard peer-reviewed curricula
Interactive student-centred curricula
The use of innovative state of the art technology to reach its objectives
CanHealth's values are aligned with the values of organizations such as the WHO and the United Nations Millenium Development Goals that include:
The enjoyment of the highest attainable standard of health is one of the fundamental rights of every human being without distinction of race, religion, political belief, economic or social condition.
All countries across the globe should have access to the highest standard of health education.
The WHO estimates that an additional 4.3 million health workers are needed across the globe by the end of 2015. This crisis has disastrous implications for the health and well-being of millions of people.
Efforts to scale up the education of health professionals must not only increase the quantity of health workers, but also address issues of quality and relevance in order to address the healthcare needs of their communities. Healthcare institutions need to increase their capacity to teach in terms of infrastructure as well as to improve the competencies of their existing staff. The WHO calls for the development and implementation of innovative inter-professional health education strategies, such as e-learning systems that can be used in both high-income and resource-constrained countries.
CanHealth International offers solutions to address these issues by providing accessible and interactive, high quality, standardized education to inter-professional healthcare workers (including doctors, nurses, midwives, respiratory therapists, physiotherapists, anesthesia assistants, paramedics, undergraduate/postgraduate students, and others who work and study in educational institutions and healthcare delivery organizations) around the world.
CanHealth International uses state of the art technology to deliver a set of online curricula for specific areas of medicine accessible by health education and healthcare institutions in the developing world. These educational programs, designed to meet the North American standard of care, are delivered by local instructors in the recipient countries who have been trained by CanHealth International.
Along with these educational programs, CanHealth International offers a large online library of interactive materials via a proprietary platform called e-PER (article). Suitable for inter-professional training, CanHealth presently provides over a thousand educational units. These focused educational materials are available to healthcare education institutions for teaching purposes.
CanHealth International is aiming to build a strong network for educators and researchers around the globe. This will be achieved by a simple partnership model.
We invite you to explore our website and to learn more about how CanHealth can work for you.